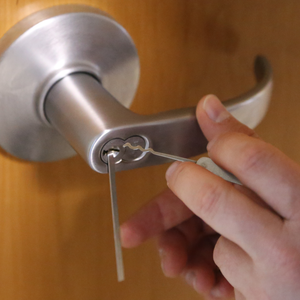 Covert Methods of Entry [5-Day Intensive]
Regular price $4,310.00 Sale
Red Team Alliance's Covert Methods of Entry class is a 5-day training geared toward students who need to be spun up rapidly in the field of physical site compromise and entry.  Professionals already working in the field who wish to hone their existing covert entry capabilities will also derive great benefit from taking this course.  A wide range of topics including multiple special focus modules across a variety of physical, digital, and human attack surfaces will be covered in great detail.

This course covers topics from lock manipulation and bypass to mission planning including reconnaissance and target evaluation.  Vulnerabilities in electronic physical access control systems and other enterprise security systems are also explored.


Curriculum:

Covert Entry Overview
Pin Tumbler Lock Manipulation
Wafer Locks in Cabinets and Panels
Warded Locks on Perimeter Barriers
Tubular Lock Systems
Cruciform locks
Bump Key Usage
Lock and Key Decoding
Key Origination
Key Control
Attacking Combination Locks and Lock Boxes
Padlock Bypassing
Door Latch and Deadbolt Bypassing

Residential vs Commercial Door Systems

Impressioning
Master-Keyed Systems
Molding and Casting Keys
Elevator Systems
Electronic Physical Access Control Systems

RFID Credentials
Sensor Hardware
Controller Logic
Credential Cloning
Wiegand Interception
PIN Code Attacks

Telephony Access Control Systems
Default Keys
Reconnaissance and Target Evaluation
Social Engineering
Destructive Entry
Field Expedient Tool Fabrication
Locksmith Software and Tools
Photographic Key Duplication
Forensic Locksmithing

Graduates of the Red Team Alliance Covert Methods of Entry training program can expect to be able to evaluate and approach a target structure -- whether commercial or residential -- and formulate a plan for gaining entry to the buildings and grounds as well as assorted locked containers and secured spaces that lay within, all with a focus on non-destructive techniques.  Whether operating under the aegis of government authority or acting in a private sector security evaluation capacity, CMoE personnel who train with RTA leave class equipped both mentally and materially to tackle the kinds of situations that our industry routinely presents to field agents.


Hardware Included in On-Site Training:

Eight Piece Lockpick Set
Practice Locks & Spare Lock Parts
Bypass Mini-Knife
American Lock Bypass Driver
Adams Rite Push Wire Tool
Quick Stick Lock Shank
Traveler Hook Loiding Tool
Super Mica Door Shims
Padlock Shims

Covert Wafer Jigglers
Warded Pick Tools
Bump Hammer, Bump Key, and Bump Bands
Sensor Masking Adhesive Magnets
Multi-Section Key Blanks
Locksmith Cylinder Shims
Light Pipe Plug Follower Tool
A Custom Pinning Tray
Virtual students will receive all above hardware PLUS all additional practice locks and RFID PACS hardware necessary to participate.

** EXCLUSIVE BUNDLE OFFER FOR VIRTUAL STUDENTS **
Students taking both the 5-Day CMoE and 2-Day PACS virtual trainings can receive a $1200 hardware kit discount by adding both classes to their cart! Offer is only valid for one student, and student will receive only one PACS hardware kit to cover both courses.

Date: As Selected Above

Time: 9:00AM - 5:00PM local time as specified in course listing
          (Including Coffee and Lunch Breaks)

Requirements and Prerequisites:

A laptop is required for this class.  For the RFID and Electronic Access Control modules of the class, students will work with tools such as the Proxmark3 device, at such time they will utilize their laptop which should be running Windows 10 or Windows 11 natively (not in a VM) with local admin rights enabled.  Laptops that are locked down due to corporate security policies or Windows "S Mode" may not be able to run the Proxmark software.  Having a laptop that affords the user local admin rights is preferred.

Students of any ability and experience may enroll in Covert Methods of Entry.  Individuals making their first foray into the industry will gain broad insight while already-established security practitioners will learn new useful tactics and procedures to increase their effectiveness.
Certification Preparation:
RTA's Covert Methods of Entry training course is seen by most in the industry as a key initial step on the pathway toward achievement of the tiered Red Team Certification Group credentialing process.  Most participants who complete the CMoE course find themselves well prepared for the knowledge exam and practical hands-on exam portions of the Covert Entry Associate certification.