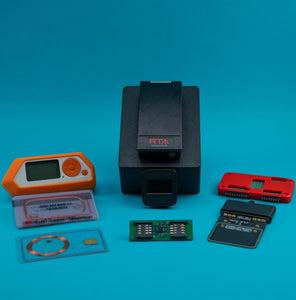 Flipping Out About PACS - Applied Modern Hacking Tools and Techniques [1-Day]
Regular price $2,295.00 Sale
NOTE: All hardware for virtual students is shipping out Tuesday, August 8th.  Virtual seat registration for this class will remain open, with the understanding that in such instances, hardware for the course shall be available on a Will-Call basis for pickup at DEF CON locally in Las Vegas.  (If you're attending DEF CON and you already have travel plans to fly home on Sunday or Monday, you can still attend this class virtually... as long as you claim your hardware kit in-person at the conference.
PRE-REQUISITE FOR STUDENTS REGISTERING ONLY FOR THIS ONE DAY CLASS
Some workshops, challenges, and modules being covered in this one day class will require a comprehensive understanding of how Physical Access Control Systems are designed, maintained, and operated. Students who have not previously taken the 2-Day PACS class from RTA (which is running the 2 days just prior to this training) *MUST* already demonstrate a high degree of proficiency with these systems. Topics covered in our PACS class will NOT be re-hashed in this course and students without preexisting experience may be unable to follow along on some exercises.
The people have spoken and the Alliance has listened: This is the Access Control and Flipper workshop you've been waiting for.
This training complements our 2-Day RFID Physical Access Control System Hacking training with a new a third day focused on research with the Flipper Zero, a new generation of tools, and practical field techniques.
Participation will include hands-on practical experience with tools, exploits, and refined methods for compromising modern Physical Access Control Systems.
Workshop Curriculum for Day 3 (Specific Items May Be Adjusted)

Fundamental Hardware Hacking Concepts
Flipper Zero: The Modern Swiss Army Knife
NARD SAM: If you can't crack the combo, just take the whole safe!
Modern Downgrade Attacks: Making Rube Goldberg Proud
Saleae Logic: Data Tap of Omens - Sight Beyond Sight
Target Hardware (TBD): Welcome To Your Playground
iButtons: Insecurity You Can Choke On
RF and SDR: Radio Catch and Release for Fun
Intro to Hardware Reverse Engineering
Group Activity: Identifying Components
Group Activity: Beginning Exploration
Student Activities and Solo Challenges
The Hardware Hacking Kit Includes:
NARD SAM: Designed by killergeek and bettse, this handy little expansion board allows your newly (or old-ly) acquired Flipper Zero to talk to up to two SIMs or SAMs! Why on earth would you want this? Probably because of the next inclusion.
Special Purpose Secure Element: Along with your shiny new NARD SAM we've gone ahead and secured a number of some super-handy secure elements that happen to be preloaded with some really useful secrets!
Saleae Logic 8: Ever wish you could download a protocol into your brain like Neo so you can look past the 1's and 0's and see what's really going on? Well, we can't help you with that, but our favorite USB logic analyzer will get you close!
THE BLACK BOX*: Every student will get a practical, real-world example of security hardware that will serve as a learning platform! This will most likely be a hospitality safe but some finer details are still being worked out. There may be a game-time substitution for something even better! Either way, you won't be disappointed!
A Flipper Zero is required for participation! Students who are providing their own Flipper Zero are not required to purchase one, but students should be prepared to backup and re-flash their Flipper if necessary!
This special training/workshop combo will be offered both virtually and on-site at the flagship RTA covert entry training facility in Las Vegas, NV. On-site seats will be limited so make sure to grab a spot early!
*The box may not be black and may not be a box.